Details
This is a new upgraded version of the full metal late version of German RC tank -Tiger I. The Taigen RC tanks are of the highest quality and are brand new to the market. What sets them apart from other tanks is the high level of detail and the strong metal components like gearbox, drive wheels, turret, barel and many more. The next great thing apart from its looks is the brand new radio equipment. This deadly machine comes with 2.4GHz transmitter receiver kit featuring many improvements compared to the old crystal based systems like extended range, no interference from fellow enthusiasts and precision steering. From now on you can have epic battles with as many radio controlled tanks as you wish.
The next very cool feature is the sound on this machine, the sound generator has 2 channels and can play 2 sounds simultaneously - in short you will hear the gun firing over the soundtrack of the engine adding to the authenticity of the model.Taigen tanks are available in different configurations but the ones we sell are the highest configuration with every possible option and upgrade included. This beautifully made Tiger tank comes in a desert type brown camouflage finish and looks amazing. The attention to detail is stunning and not only is this a fully working model with sound effects, smoke and the ability to fire BBs, but it is sufficiently detailed to be used purely for display. Many of the components and features of this tank are made of metal, giving durability and a more realistic feel and appearance to your model.
We think the pictures speak for themselves! The pull ropes are made from real metal cable and have been carefully coloured to give a feel of authenticity. The caterpillar tracks are scaled down versions of what you would get on the real thing, fully metallic linkages that will form to the terrain and any obstacles in the tank's path. When you pick this tank up, everything about it says quality, for a start this is a faiirly hefty model, it feels robust, it feels right, you could say it's built like a tank!
So why not treat yourself to a piece of military history that's not only great to look at, but will give hours of fun as it growls and smokes its way around your garden or park, and where safe to do so can fire BBs at the target (included in the box) with a realistic recoiling action. RC tanks don't really come better than this!
The Tiger comes complete with a hand-painted camo design. Below are some images showing the plastic and metal components of the tank before it is painted.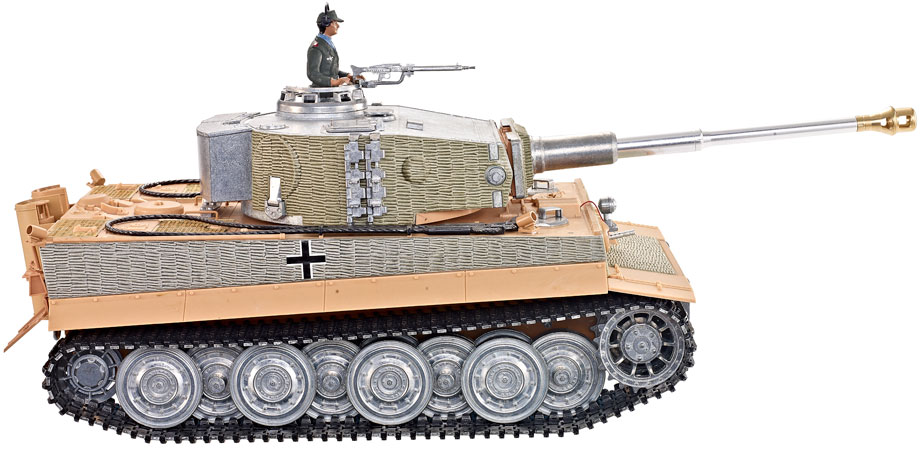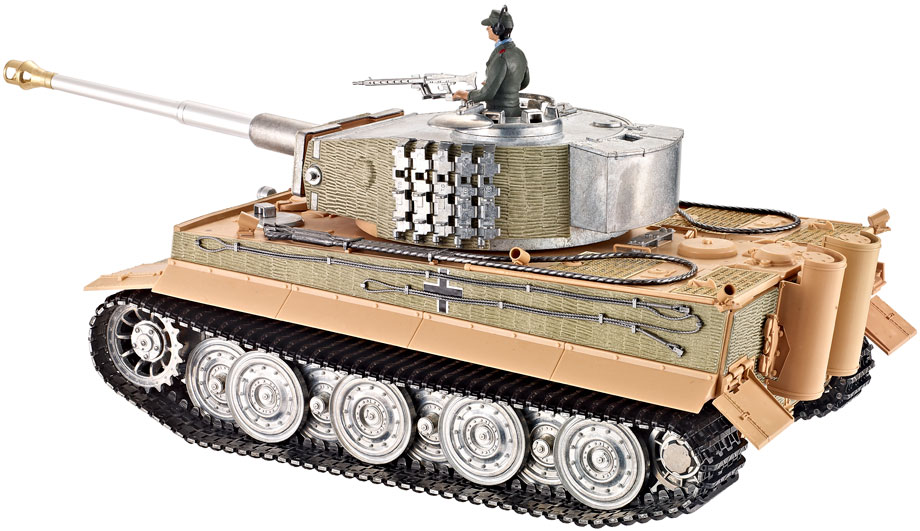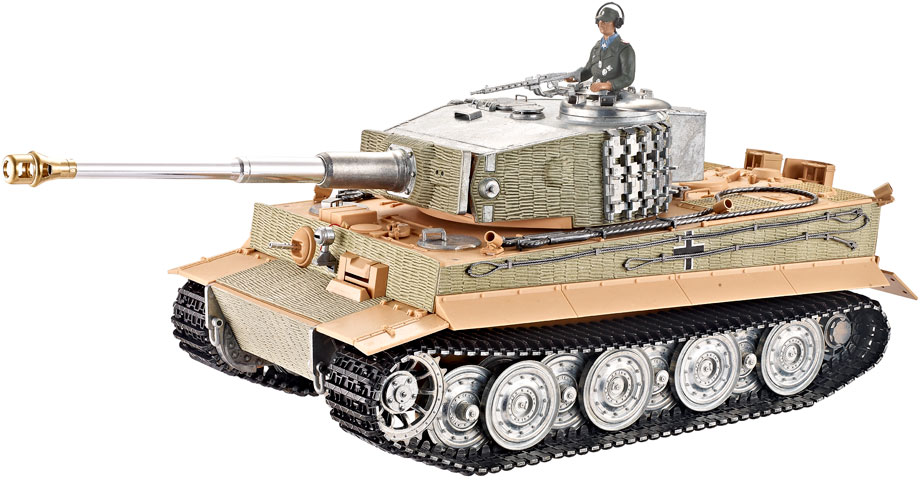 Additional Information
SKU
TG3818-D
Manufacturer
Taigen
Radio Equipment
2.4 GHz
Specifications

Storage Capacity: 40 BB's
Length: 52 cm
Width: 24 cm
Height: 20 cm
Scale: 1:16
RX18 board
Battery: 7.2V 2000Mah with UK charger
Radio: 2.4GHz radio transmitter and receiver
Climbing Gradient: (varies on different road surfaces) Apr. 35-degree

Features

Taigen's brand new full 360 degree rotating turret
2.4GHz radio equipment
Special acrylic paint job
Steel gearbox with bearings
Metal tracks
Metal turret
Metal gun barrel and muzzle
Metal drive wheel and idle wheel
Shock absorbers
Metal network
Painted commander
Strengthened metal chassis
Metal view hole
Metal armour
Metal turret cover
Metal shoulder wheel
Metal front and rear hook
Metal machine gun light
Metal front forward light
Photo etch grills
Upgraded Ni-MH 2000Mah battery
Smoke effects simulator
Sound effects 2 channel simulator

Required To Use
8 x AA Batteries
Questions:
There are no product questions yet.
You might also like...
SALE

SALE
1 customer reviews
Outstanding Product

Devin - USA February 04, 2021

By

This tank is worth every penny. Excellent craftsmanship. Everything worked perfectly. Details and paint job are tremendous. Solid and well built upgrades. Well packaged, which is good because the box was torn up during shipping. Only complaint was the generic responses given to the extreme delay in shipping. I never got a shipping date, only an incorrect tracking number after my repeated queries for over a month. I understand there were issues due to covid, however the Reponses did not indicate I would ever receive the product or an estimated dispatch date.
© 2020 TheHobbyworx. All Rights Reserved. Your online hobby store for gas RC cars and toys.