Details
This is a huge ready to run gas powered buggy that is ready to race and ready for fun. This model has been totally redesigned from its prior versions and is now more powerful than ever with the bigger 30cc engine and large aluminum air filter! This beast of a buggy delivers hard acceleration and fast top speeds providing you with an exhilarating driving experience. To handle the extra power the steering servo has been upgraded to a higher torque 30kg/cm model that is both water and dust proof. This is a precision manufactured high quality model with a massive feature list including hatchback frame design, metal gearing and large extra tough tires. See the full feature list below. As standard the model is two wheel drive but if you prefer 4WD that can be upgraded easily with the purchase of the conversion set for further grip and handling. Just in case you get caught in the latter parts of the day turning into dusk, your buggy has six LED lights that will light up your way! You will not find a 1/5 scale model with this performance and adaptability anywhere else anywhere near this price!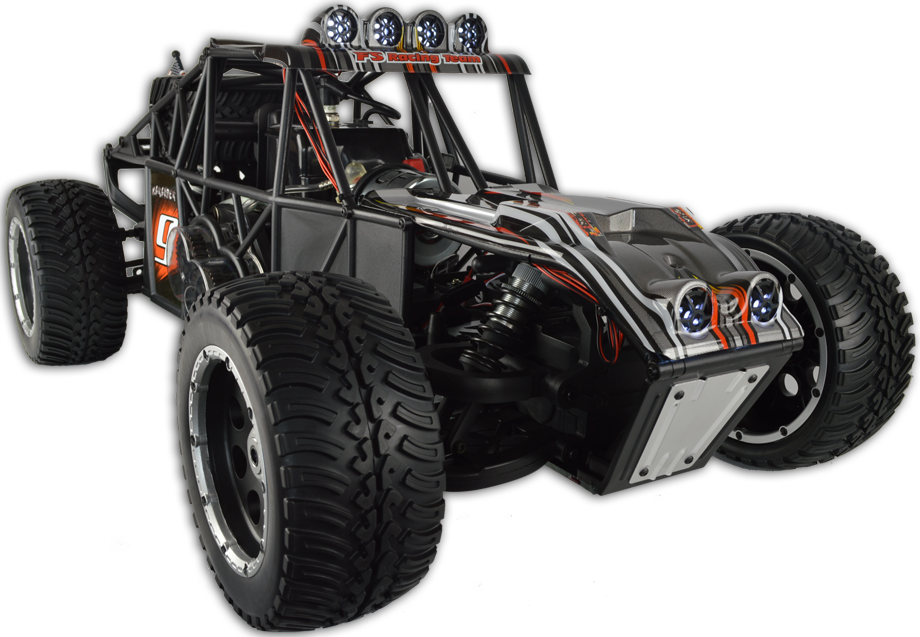 RECHARGEABLE BATTERY
The servos and radio receiver are powered by an included rechargeable battery pack so you do not need to keep replacing normal AA batteries like you do on other models.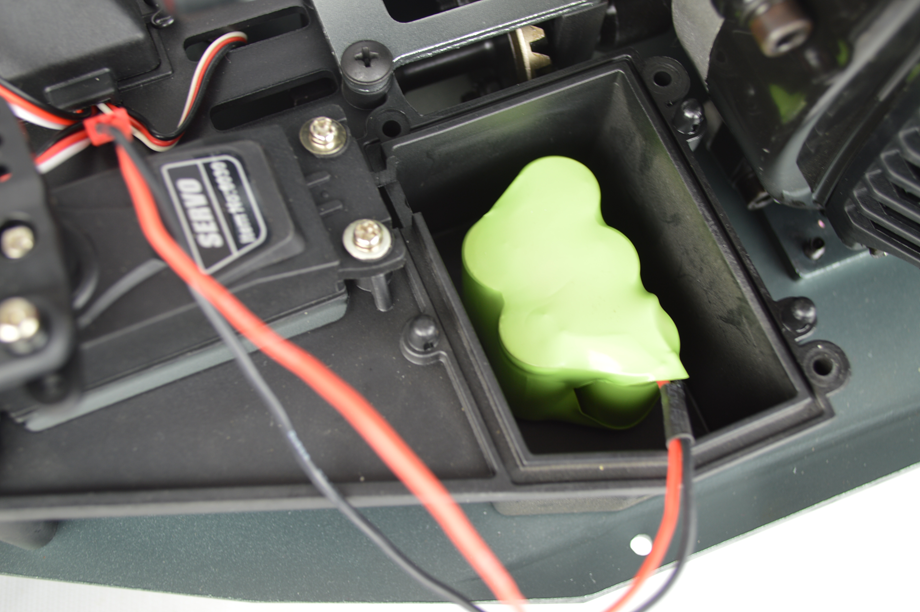 SOLID ALUMINIUM CHASSIS
Aluminium chassis with countersunk screws.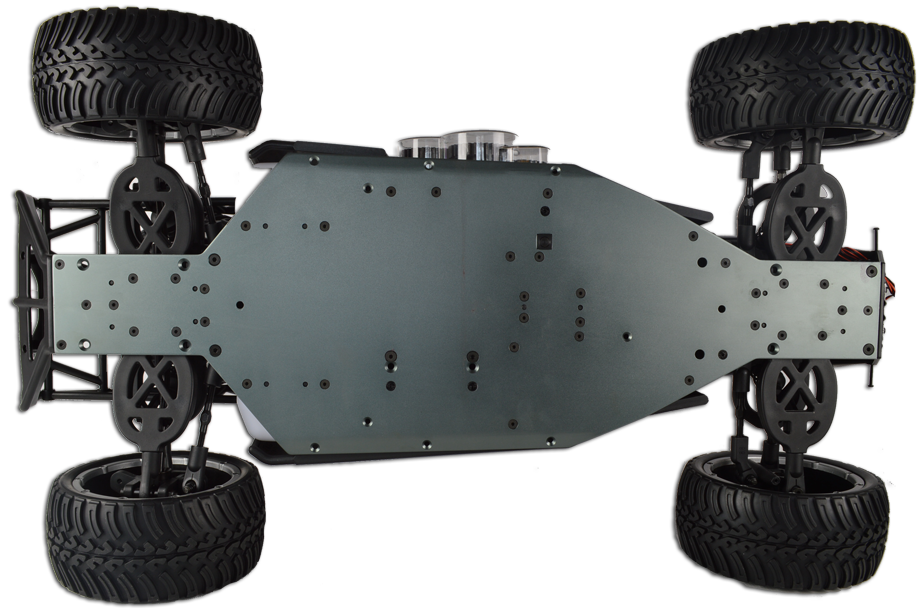 CENTRAL CHASSIS LAYOUT
Engine and fuel tank are placed down the centre of the chassis to give good balance.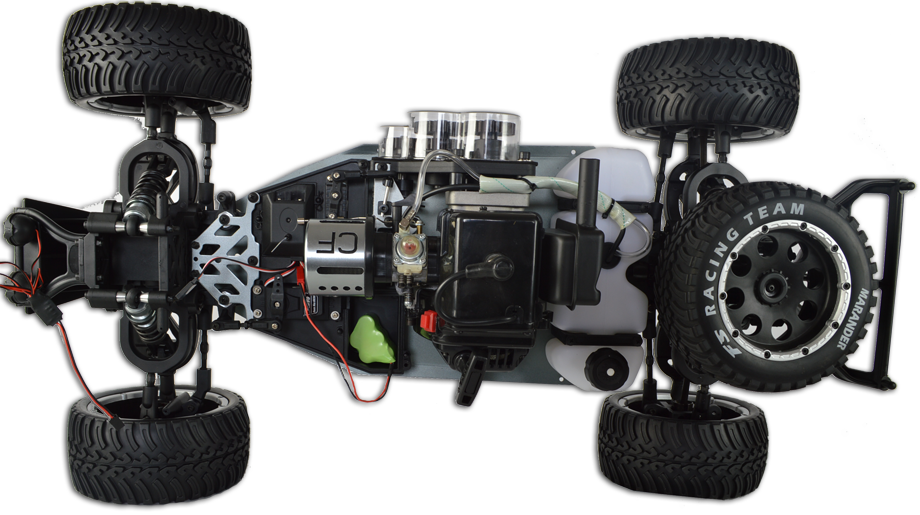 BIG 1:5 SCALE
The car measures 860mm x 300mm x 430mm (length, height, width).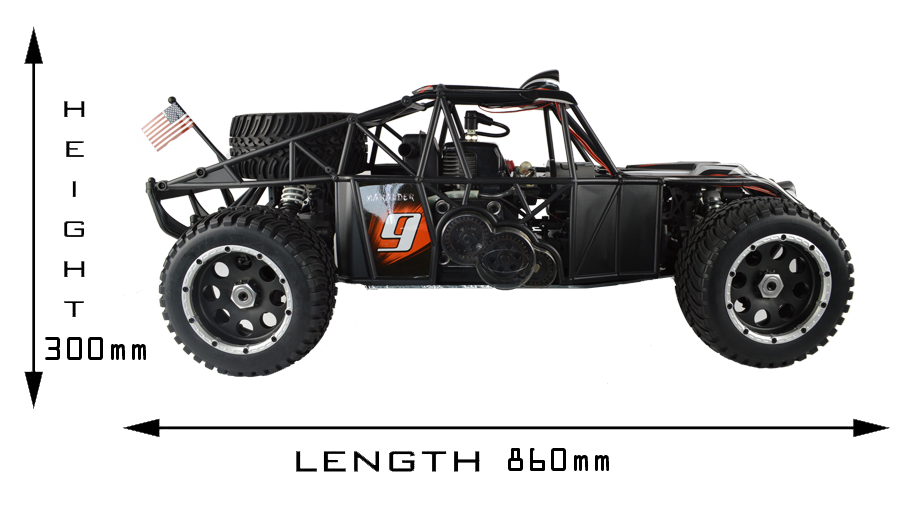 30cc GAS ENGINE
The engine runs on normal unleaded gas mixed with normal 2-stroke oil, both available from gas stations.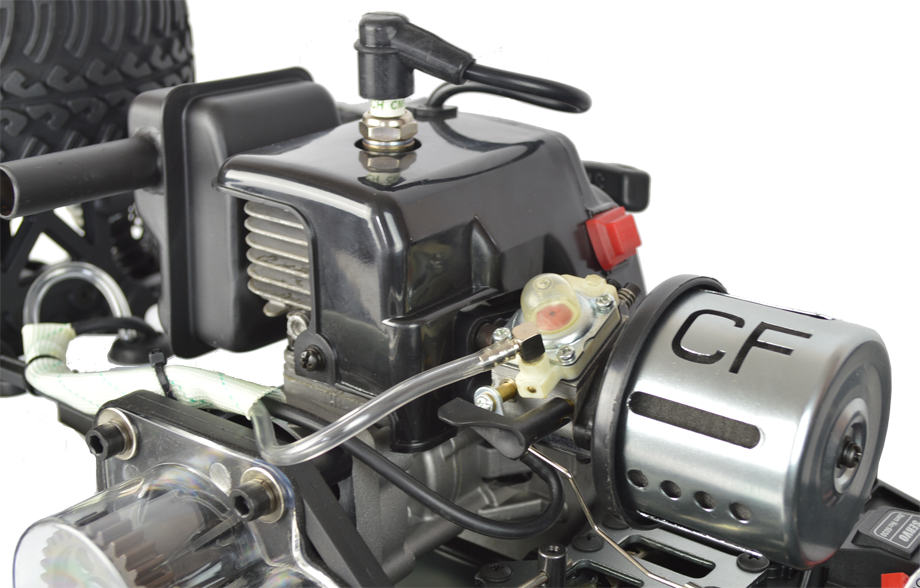 WORKING LED LIGHTS
4 x LED overhead off-road lights and 2 x LED headlights, controlled from the transmitter.

IMPACT RESISTANT SPLIT RIM WHEELS
Wrapped with high traction all terrain tyres.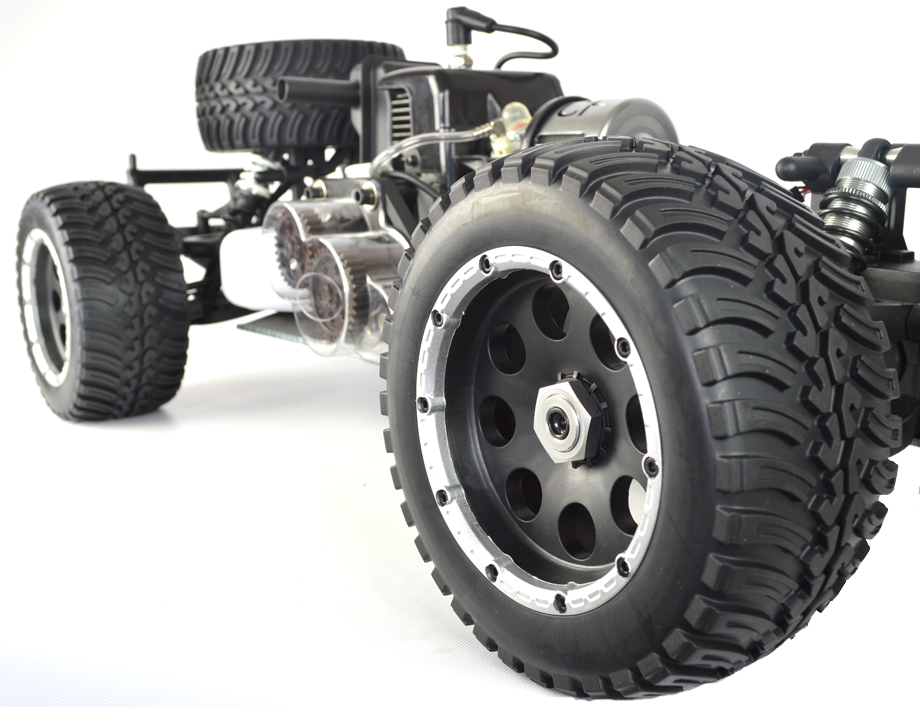 LARGE AIR FILTER, COVERED METAL GEARS AND ALUMINIUM UPPER CHASSIS
High quality, feature packed model.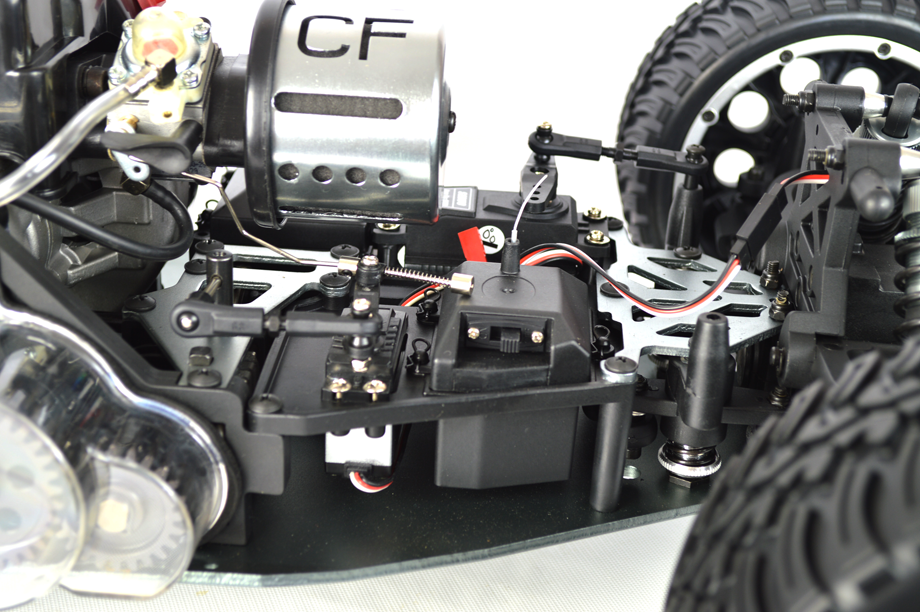 ALL NEW 2.4GHz RADIO TRANSMITTER
All new 2.4GHz radio technology is used. This is more reliable than the old FM equipment and allows multiple RC cars to be used in the same area without interference.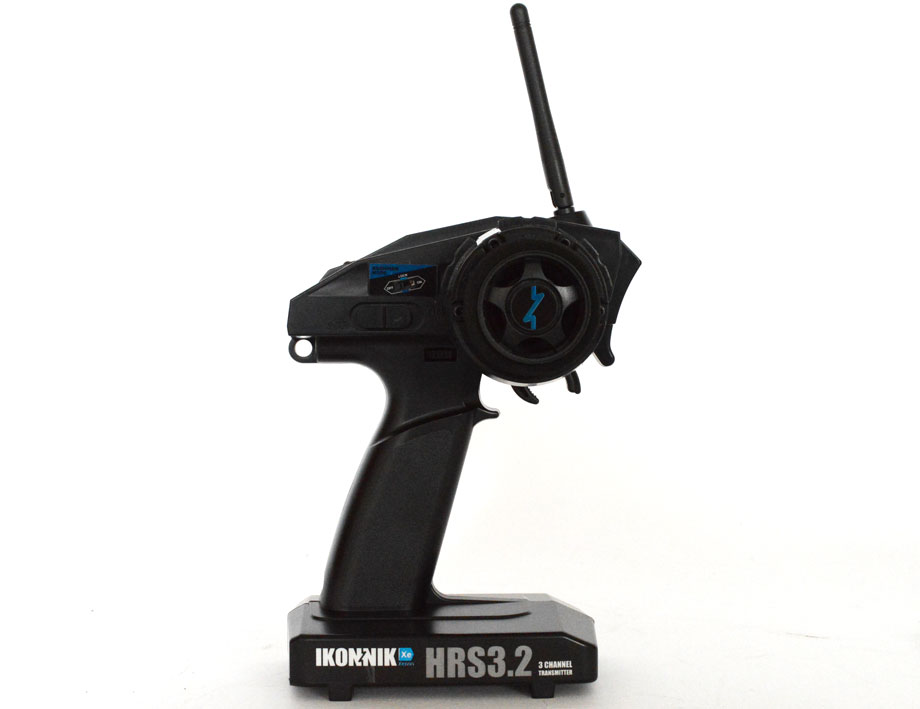 ADJUSTABLE ALUMINIUM OIL-FILLED SHOCKS
Independent aluminium shocks on each wheel with adjustable angle and tension.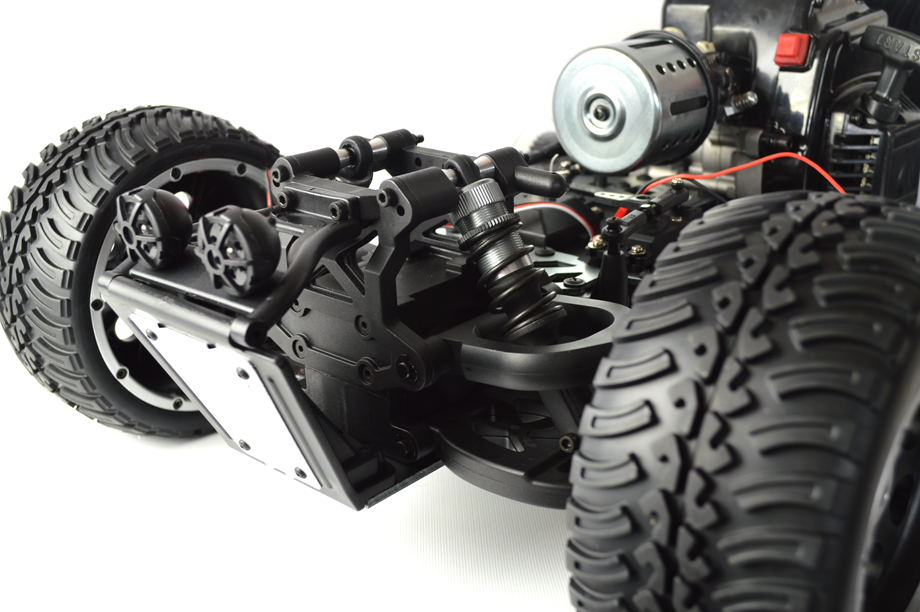 Additional Information
SKU
FS10903
Manufacturer
FS Racing
Model Scale
1:5
Build
RTR
Drive
2WD
For Terrain
Off Road
Radio Equipment
2.4 GHz
Type
Buggy
Motor / Engine
30cc Petrol
Specifications

Scale: 1:5
Run Time: 20-30 min
Radio: 2.4GHz
Dimensions: 860x430x300mm
Wheelbase (F/R): 520mm
Tire Diameter: 170*W78mm
Remote Distance: 200m+
Steering servo: 30kg metal gear servo
Power: 30cc petrol engine
Fuel Capacity: 700cc
Tire Track: 520mm
Throttle servo: 10kg gear servo
Control Channels: 3 Channels
Gear ratio: 7.68:1
Wheel drive: 2WD with optional 4WD conversion kit (sold separately)

Features

Runs on standard unleaded 93# or 97# petrol mixed with 2 stroke oil. No more having to buy nitro fuel from model shops, the model will run on normal petrol and 2 stroke available from any petrol station!
Great scale appearance with hatchback frame design complete with rear mounted spare tire
Rechargeable receiver Ni-MH battery with charger included
3 channel super lightweight 2.4GHz radio transmitter with automatic code hopping technology for using multiple models in the same area without interference
Brand new metal geared differential makes the car more stable and durable
Robust newly designed tires will conquer all the surfaces you meet
Uses metal gears to enhance the transfer of power to the tires
30cc petrol engine with endless power
4 x LED overhead off-road lights
2 x LED headlights
Separated shock springs provide you with a more stable driving experience and jumping protection
2 wheel drive can easily be upgraded into 4 wheel drive with the purchase of the conversion set
Metal gear set
Clear drive-train cover
New middle differential design with more stable performance
New improved lower suspension arm design
Waterproof receiver
Waterproof / dust-proof servos
Large aluminum air filter for maximum engine air flow

Required To Use

Unleaded 93# or 97# petrol
2 Stroke cycle oil
8 x AA batteries for the transmitter
Questions:
Posted by
, Thursday, July 4, 2019 on
Question:
About what is top speed for this buggy ? Can I purchase extra battery pack for the servo and transmitter and if so what is the price ? Thanx in advance.
Answers:
Posted by

on Thursday, July 4, 2019

Thank you for your query. We do not have a top speed for this buggy as it depends based on the terrain and driving style of the user. The extra battery pack can be found here: https://www.nitrotek.co.uk/rc-accessories/batteries/6v-1100mah-receiver-battery-pack-set-w-charger.html
Posted by
, Thursday, June 6, 2019 on
Question:
Where can I find aluminium parts for USA custom ers
Answers:
Posted by

on Thursday, June 6, 2019

Thank you for your question. All spare/upgrade parts can be found by following the link provided below: https://www.thehobbyworx.com/spare-parts/fs-racing/fs-racing-petrol-truck.html
Posted by
, on
Question:
When will the 1/5 scale Marauder be back for sale?
Answers:
Posted by

on

Thank you for your question. Unfortunately we do not currently have a specific date as to when this model will be back in stock however I would advise you adding the model to your wish list in order to get an email notification as soon as it is back in stock.
Posted by
, on
Question:
I see that I am able to pre order the 1/5 scale Marauder. Due April 10th? Does that mean thats when it will be available? In stock?
Answers:
Posted by

on

Thank you for your question. Yes this model is due to arrive on the 10th April. It is currently on pre-order meaning that if the model is purchased now - your model will be dispatched as soon as the model arrives back in stock (10th April).
Posted by
, on
Question:
Is this available for US customers
Answers:
Posted by

on

Thank you for your question. Yes this is available for US customers.
1 customer reviews
Absolutely brilliant

Lewis July 23, 2019

By

Fantastic model car. So handy running it on 2 stroke fuel no more nitro. I'm running mine on Castrol 747 and my word can it shift. The size of it is huge. It could drive on everything from grass to tarmac.
Brilliant fun
Thanks Nitrotek
© 2020 TheHobbyworx. All Rights Reserved. Your online hobby store for gas RC cars and toys.