Details
Another great feature of this model is that it's 4WD ready. The smart 2WD to 4WD conversion kit allows you to easily upgrade to full 4WD for further grip and handling. You will not find a 4WD gas powered model anywhere else anywhere near this price!
The buggy comes fully built and ready-to-run with 2.4Ghz radio equipment. This system allows multiple models to be used in the same area without radio interference.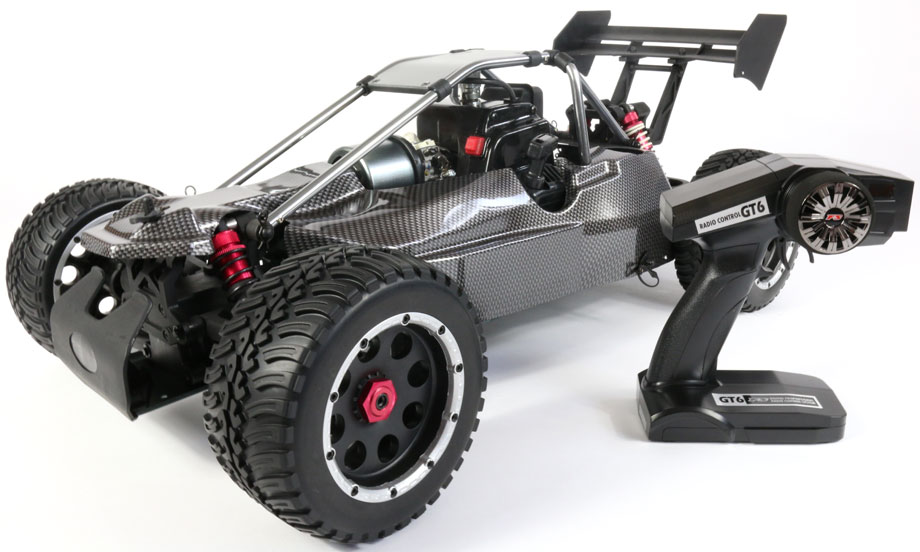 SOLID ALUMINIUM CHASSIS
Aluminium chassis with countersunk screws.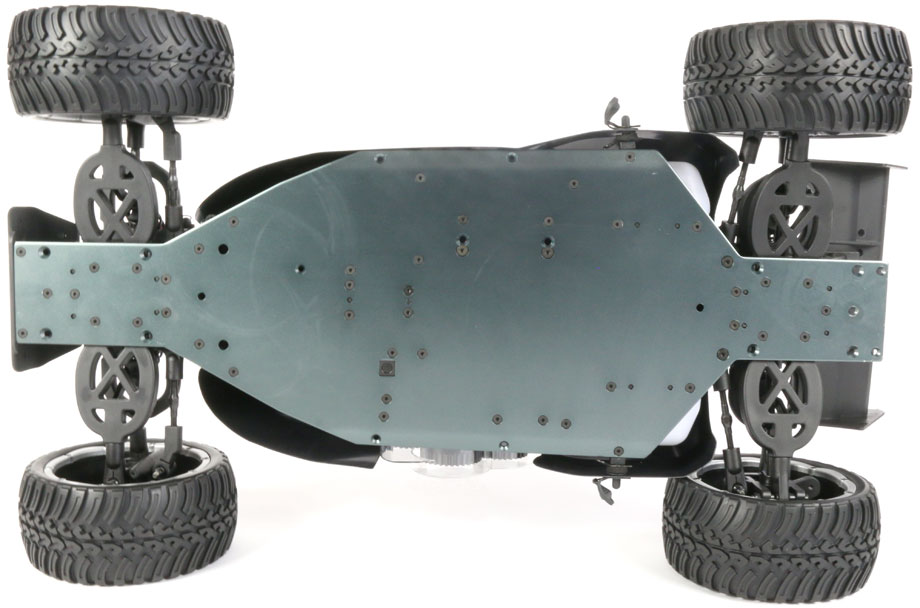 CENTRAL CHASSIS LAYOUT
Engine, fuel tank and battery are placed down the centre of the chassis to give good balance.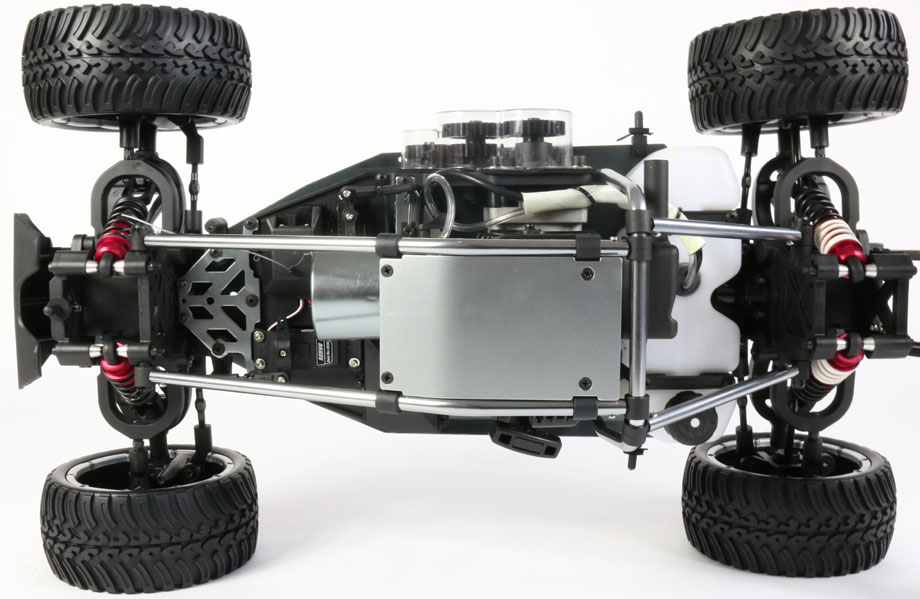 BIG 1/5th SCALE
The monster truck measures 800mm x 245mm x 430mm (length, height, width).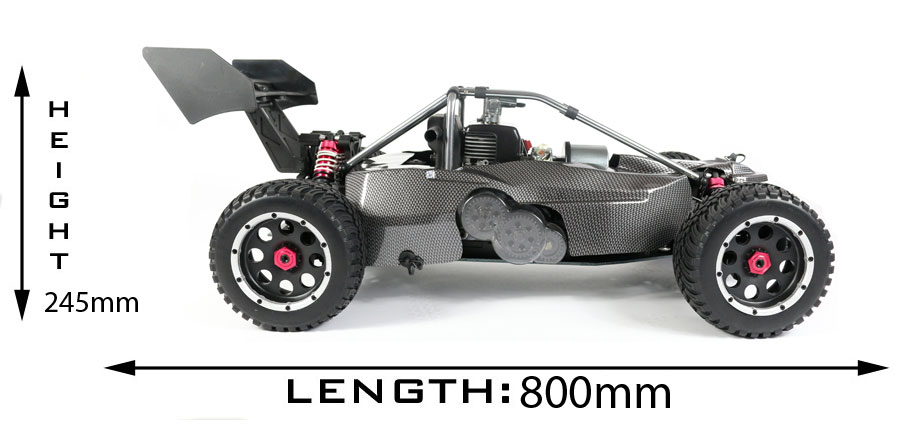 IMPACT RESISTANT WHEELS
Wrapped with high traction all terrain grippy tyres with feature split rims.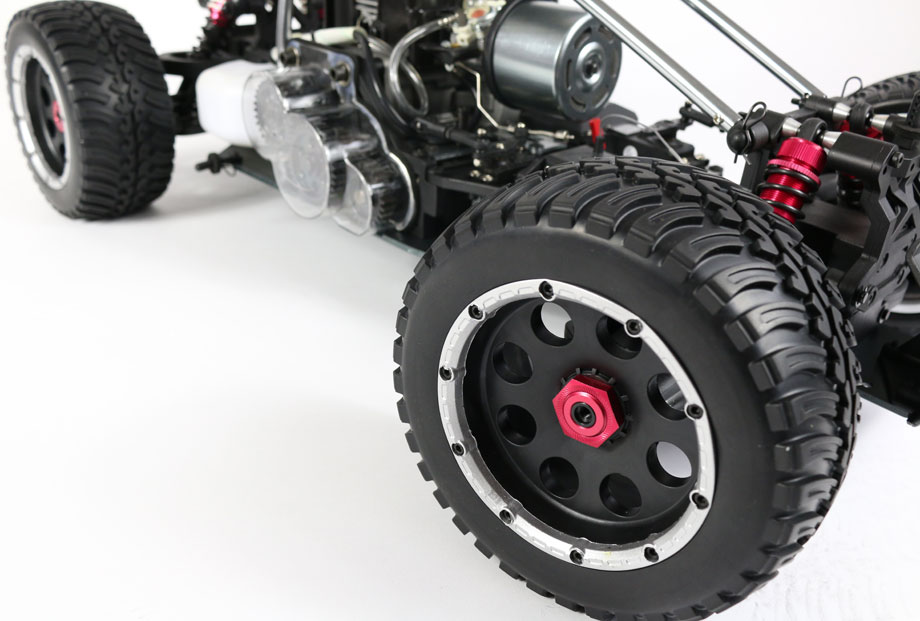 30cc AIR COOLED RECOIL-START GAS ENGINE
The engine runs on normal unleaded gas mixed with normal 2-stroke oil, both available from gas stations.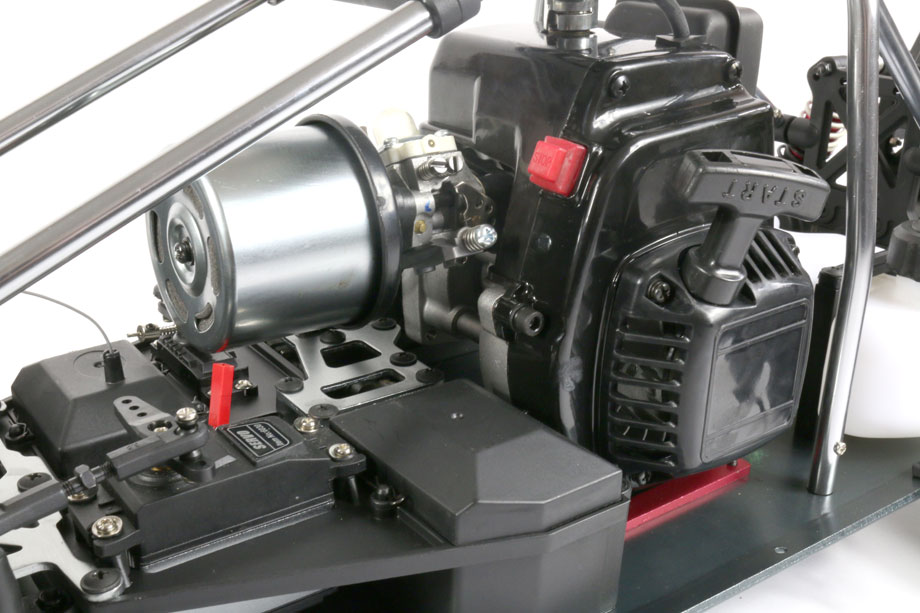 HI-TORQUE WATER RESISTANT STEERING SERVOS
An extra large and strong steering servo is used to handle the extra power, speed and weight of the model.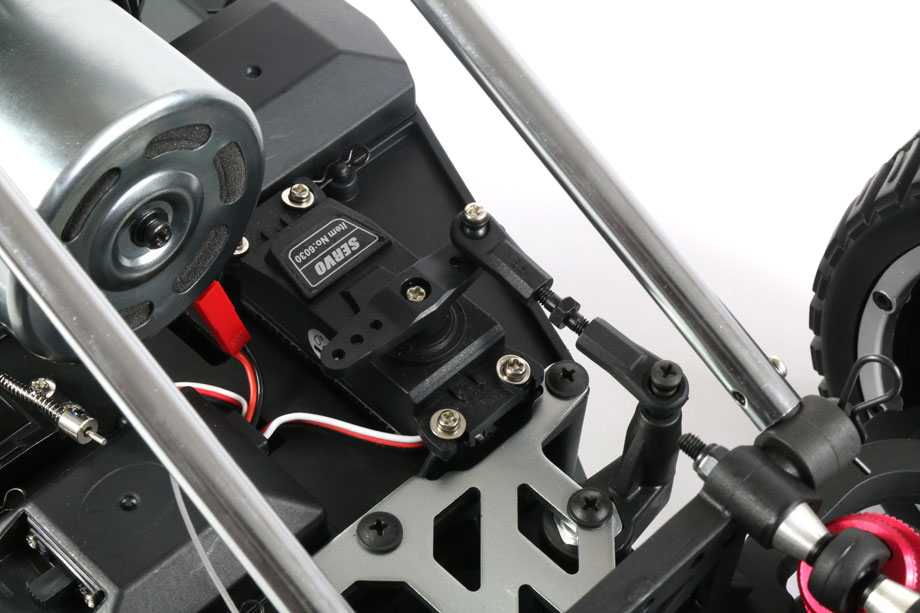 ALL NEW 2.4GHz RADIO TRANSMITTER
All new 2.4GHz radio technology is used. This is more reliable than the old FM equipment and allows multiple RC cars to be used in the same area without interference.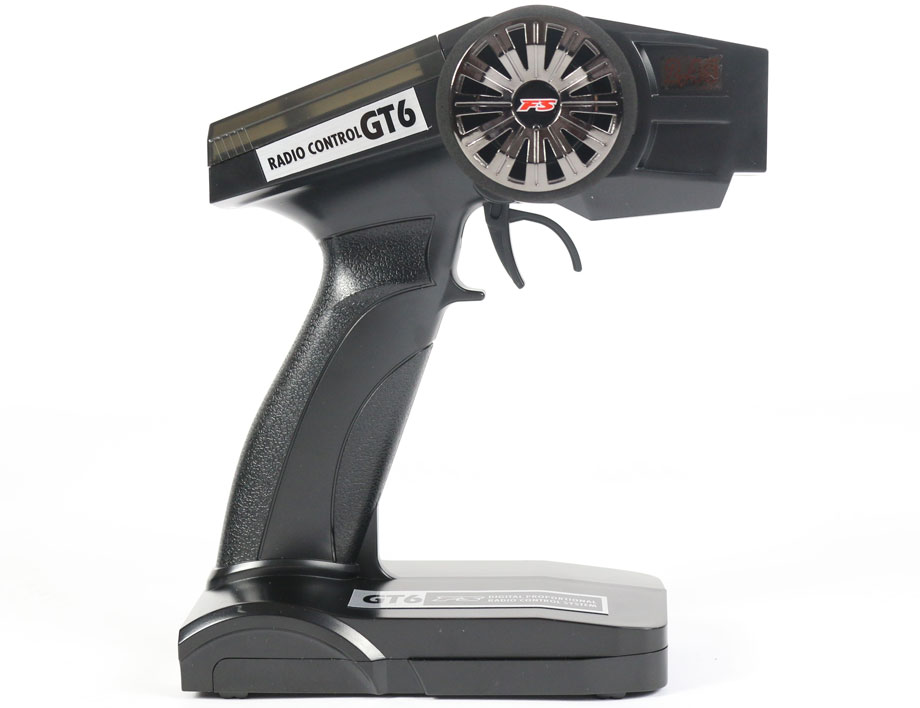 FULLY ADJUSTABLE OIL FILLED HEAVY DUTY SHOCKS
Adjustable aluminium shocks on each wheel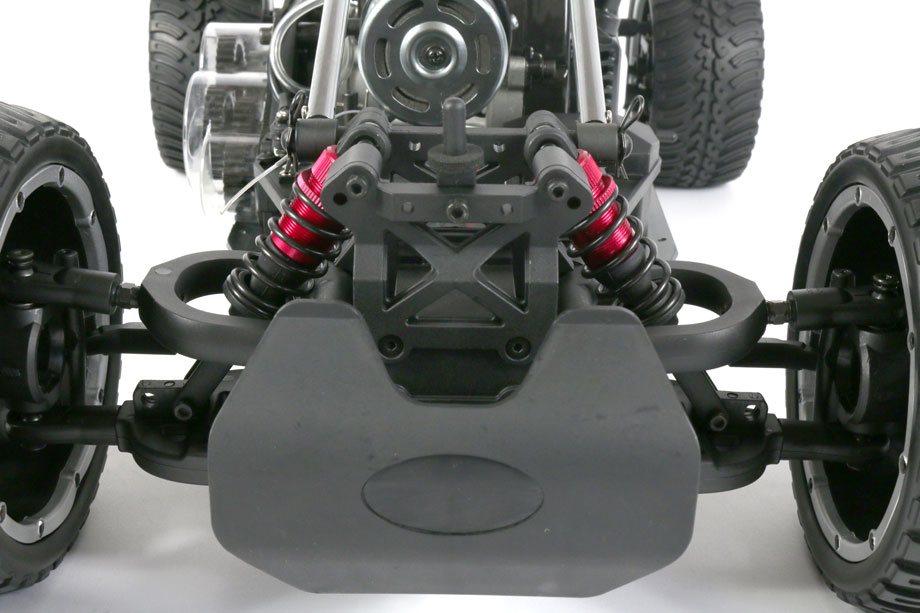 Additional Information
SKU
FS10201
Manufacturer
FS Racing
Model Scale
1:5
Build
RTR
Drive
2WD
For Terrain
Off Road
Radio Equipment
2.4 GHz
Type
Buggy
Motor / Engine
30cc Petrol
Specifications

Manufacturer: FS Racing
Scale: 1:5
Drive: 2WD (Can be upgraded to 4WD)
Max Speed: 50+ MPH
Wheelbase: 520mm
Vehicle size: (L x W x H) 800 x 430 x 245 mm
Tyre Diameter: 170 mm
Weight: 12.8kg
Gear Ratio: 7.68:1
Ground Clearance: 55mm

Features

Runs on standard unleaded 93# or 97# petrol mixed with 2 stroke oil. No more having to buy nitro fuel from model shops, the model will run on normal petrol and 2 stroke available from any petrol station!
Huge, 1:5 scale and super fast (50+ MPH)!
Can be easily upgraded to 4WD
Everything's included (Just add petrol and 8 x AA controller batteries)
30cc, CY Brand 2 cycle piston-valve, air-cooled, recoil-start engine
Large 600ml fuel tank for longer runs (up tp 1hr)
Adjustable carburetor with choke and prime button
Extra strong titanium alloy 4mm chassis
Anodized aluminium-alloy roll cage and large front bumper for protection
Automatic, long-life clutch, with improved clutch spring
Heavy-duty metal gears with sealed gear box
Fully-adjustable, oil-filled, heavy-duty shocks to dampen any terrain
Stops quickly with the vented rear disc brake system
High grip tyres
Double-wishbone suspension
2.4Ghz radio for maximum control and range
Extra hi-torque (30 kg/cm), water-resistant steering servo
Water-resistant 6kg/cm throttle servo
Heavy duty carbon style ABS one-piece painted body kit (coated for protection)
Precision manufactured high quality model
Durable packaging to ensure model will arrive in flawless condition
Enclosed Gear Covering
Allen Key Bolts
Balanced Set Up
Countersunk chassis
Sealed electronics box for extra protection on wet days
Metal air-filter intake cover
Speedy shipping from our UK warehouse!

INCLUDED IN THE BOX:

Ready-to-run, completely assembled buggy
Carbon Fibre style body shell
Sticker set
2.4Ghz radio controller and receiver
Tool kit
Battery charger
Rechargeable receiver battery pack
Owner's manual / schematics

Required To Use

Unleaded 93# or 97# petrol
2 Stroke cycle oil
8 x AA Batteries for the transmitter
Questions:
Posted by
, on
Question:
Which model is this buggy
Answers:
Posted by

on

Thank you for your question. This model is a 1/5 scale petrol buggy.
Posted by
, on
Question:
Dose it have reverse
Answers:
Posted by

on

Thank you for your question. No - this model does not have a reverse feature.
Posted by
, on
Question:
Hello, If I'm reading your website correctly it looks like these will be in stock at your facility on 9/8/2020. How soon will you start shipping orders out? Take care and have a great day! Christy
Answers:
Posted by

on

We dispatch orders on or shortly after the shipment date and usually delivery takes 3-5 working days to arrive.
You might also like...
SALE
1 customer reviews
Fs buggy

Waseem May 24, 2020

By

I received my Fs buggy order #130024848
I just started fs buggy yesterday and I must say it's brilliant and everything came packed and boxed. Thank you for your service
© 2020 TheHobbyworx. All Rights Reserved. Your online hobby store for gas RC cars and toys.