Details
THIS MODEL HAS BEEN REDUCED AS THE MODELS BOX COMES SLIGHTLY DAMAGED. THE BOX DOES NOT HAVE THE ORIGINIAL LID, THIS HAS BEEN REPLACED WITH A THICK PIECE OF FOAM. THIS DOES NOT EFFECT THE MODEL AS IT IS IN NEW/UNUSED CONDITION.
THE MODEL HAS BEEN TESTED AND FOUND TO BE FULLY FUNCTIONAL.
This is the Raptor. It's a third of a meter wide, it's got a powerful brushless motor, and it's incredibly fast making it one of our most awesome radio controlled cars. Fitted with massive wheels, with high grip tyres, suitable for use either on or off road, this Raptor will go pretty much anywhere, and it doesn't hang about. To cushion the blows it is equipped all around with oil filled shock absorbers, and responsive and articulate wishbone suspension technology. Performance isn't all that this truggy offers though, it has a prepainted shell which is exclusive to Nitrotek, and is ready to run straight from the box - just take the Raptor brushless RC truggy out, charge its battery, place 8AA batteries in the handset and you're ready to go! With that big brushless motor and 11.1V Li-Polymer battery these models are ridiculously quick and at an amazing price!
The Raptor truggy is a high performance, high speed speed machine. With its unique truggy tyres and low centre of gravity design the models performs both on and off the tarmac. The 4WD system with front and rear differentials evenly distributes the massive power to the wheels making the Raptor a race winner.
The special motor in this model is much quicker than the motors found in other models. Because it is brushless it also means the motor needs no maintenance and can handle a lot more power being pumped into it. So to take full advantage of that the standard 7.2v Ni-Mh batteries that are found in most radio controlled cars kits has been replaced with a very powerful 11.1v lithium battery along with a balanced lithium battery charger which is needed for these special batteries. The brushless RC truggy comes fully built with everything you need to get racing apart from eight normal AA batteries for the radio handset. This is a high spec racing model that at full speed requires some real skill to control it. It is therefore recommended for ages 14+.
1:10th SCALE MODEL
This 1:10th scale truggy measures in at 410mm x 260mm x 140mm (length, width, height)
4WD SHAFT DRIVE SYSTEM WITH DIFFERENTIALS
This model has a 4 Wheel Drive system with a strong aluminium drive shaft evenly transferring the power from the rear to the front. The 4WD system gives better off road ability and better handling. These hobby grade RC cars also feature working front and rear differentials that further improves handling.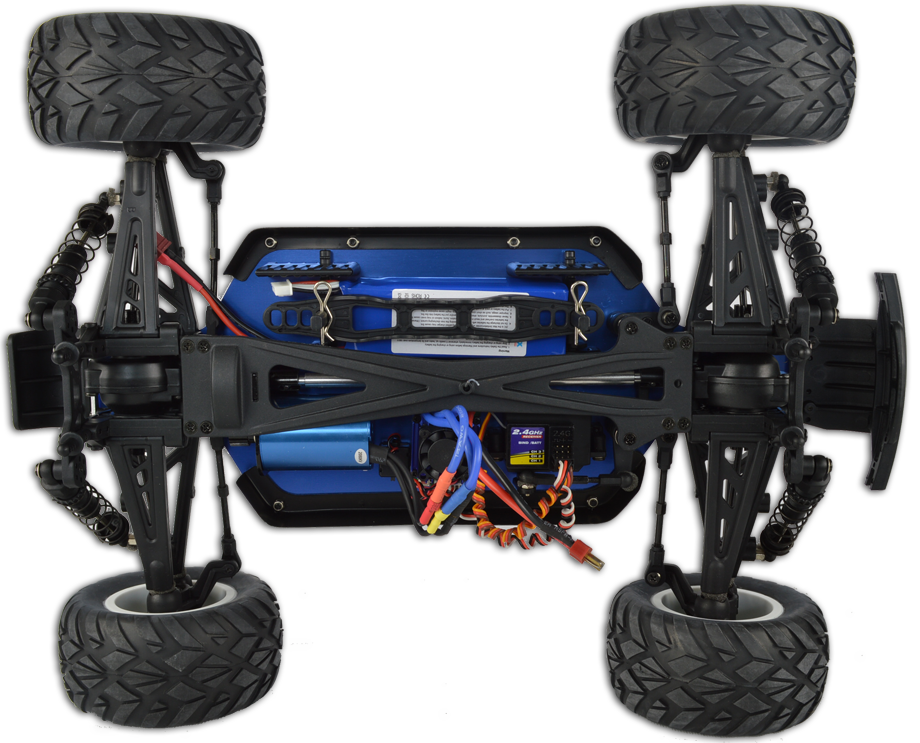 HIGH SPEED BRUSHLESS MOTOR
Brushless motors are much faster than standard ones making this model very fast. The speed controller features its own dedicated cooling fan to keep it at peak operating temperature.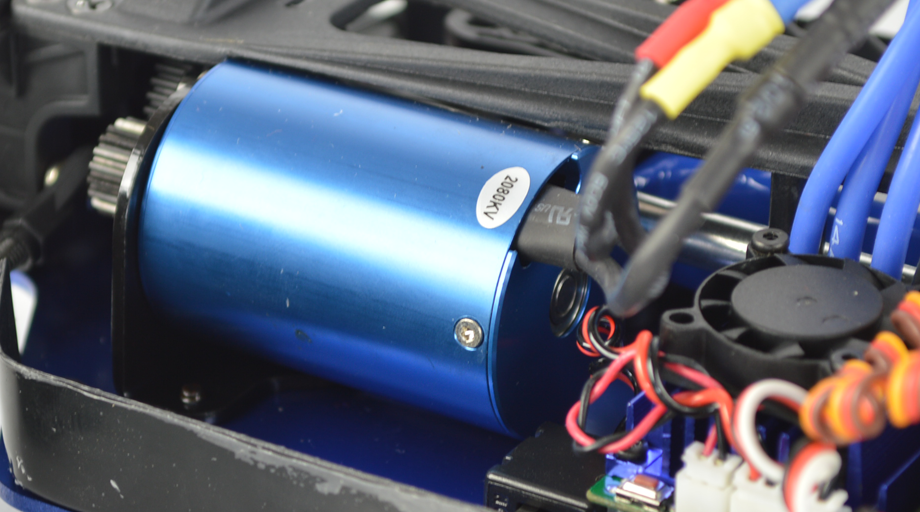 OIL FILLED SHOCKS WITH SWAY BARS
Both the tension and angle of the shocks can be adjusted to suit your driving preference and terrain. Sway bars are fitted as standard to further improve cornering.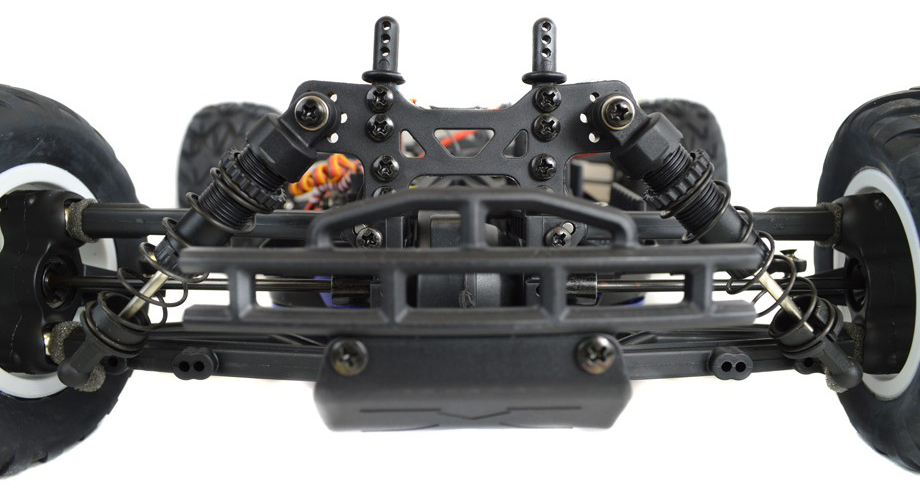 11.1v LITHIUM BATTERY
This model comes complete with a 11.1v lithium battery and charger. These batteries release the full potential of the brushless setup to give the fastest possible speed. The battery box size is adjustable.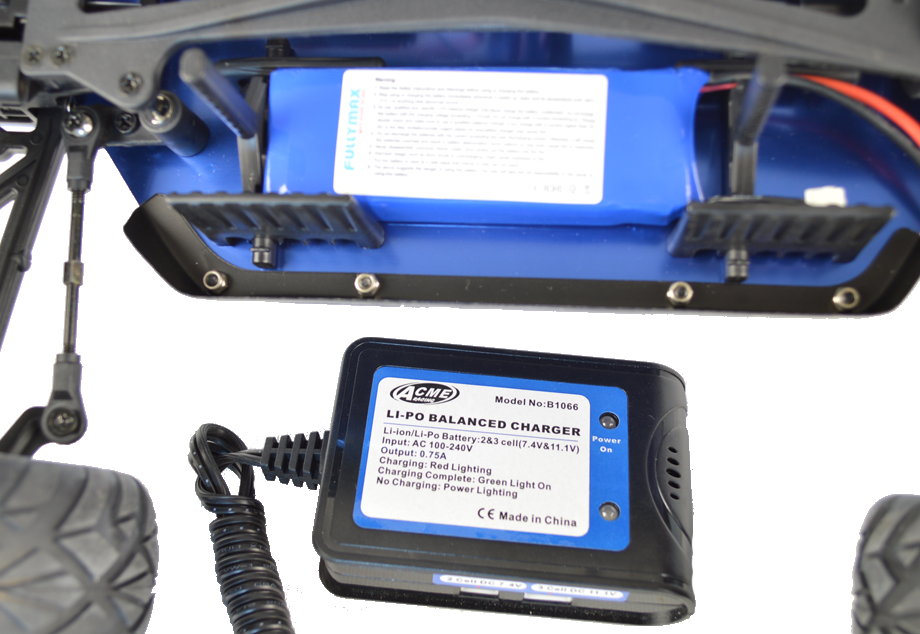 SLEEK BODY SHELL
The truggy white body shell comes pre-painted and pre-cut.

2.4GHz RADIO
All new 2.4GHz radio technology is used. This is more reliable than the old FM equipment and allows mulitiple RC cars to be used in the same area without interference.


ALUMINIUM CHASSIS
A solid blue aluminium chassis with all countersunk screws to keep the base perfectly flat.

Additional Information
SKU
REDUCED10
Manufacturer
Acme-Tech
Scale
1:10
Build
RTR
Drive
4WD
For Terrain
Off Road
Radio Equipment
2.4 GHz
Type
Truggy
Motor / Engine
Brushless
Specifications

Width: 330MM
Height: 140MM
Length: 410MM
Wheelbase: 270MM
Gear ratio: 8.95:1
Wheel dia.: 110*55MM
Ground clearance: 36MM
Radio: 2.4Ghz Pistol Type
Battery: 11.1V 1800mah Li-Polymer
Motor: Brushless 2399kv
ESC: 60A Brushless
Scale: 1:10

Features

1/10 Scale brushless powered car
4WD Shaft drive system
Extreme power brushless motor
Oil-filled shocks
Powerful Li-Polymer battery with balanced charger
Front and rear bevel differentials
Brushless 60A ESC
Pre-painted exclusive body shell
High quality 2.4Ghz CE approved radio system allows multiple users in the same area

Required To Use
Questions:
There are no product questions yet.
You might also like...
SALE
Be the first to review this product
© 2019 TheHobbyworx. All Rights Reserved. Your online hobby store for gas RC cars and toys.